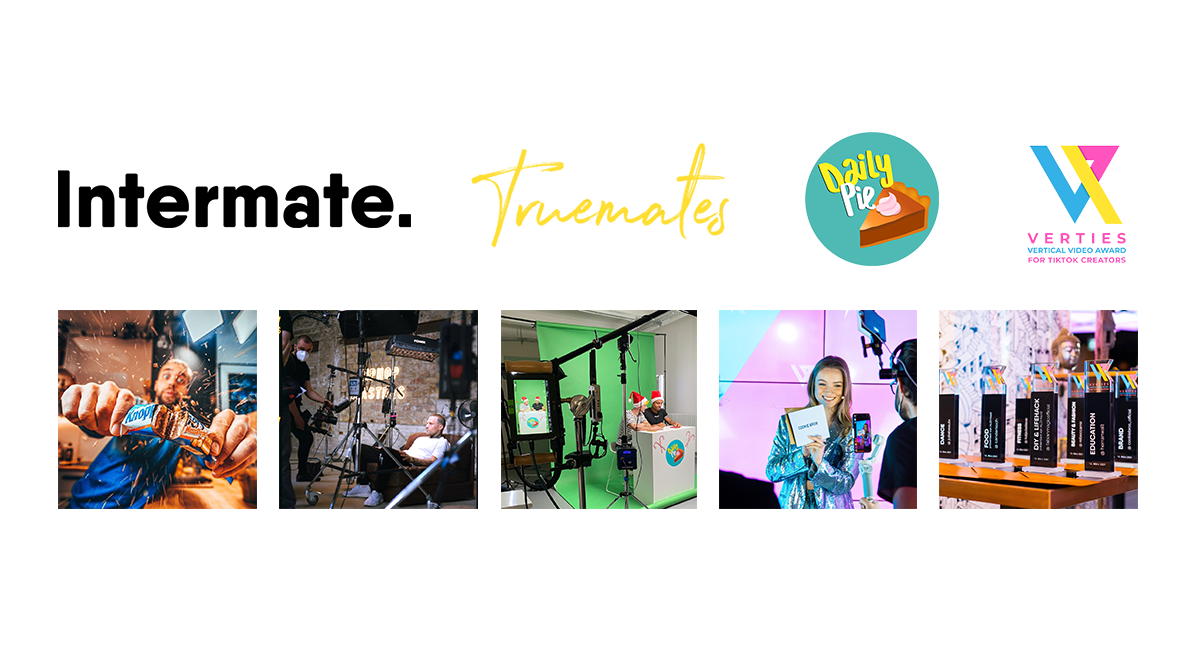 Intermate Group
Bronze Partners
Information
Intermate. Group - Intermate I Truemates I Daily Pie I Verties
Your One Stop Shop for Content & Traffic on Social Media:
Intermate
Intermate is the leading German influencer marketing agency with offices in Berlin, Hamburg and Vienna. She designs complex campaigns with her own creative unit and implements influencer activations on all social platforms. For influencer selection, campaign planning and reporting, Intermate uses a complex, self-developed technological ecosystem. The agency has already implemented successful campaigns for major clients and international brands from all industries. Current customers include TikTok, Telefónica, ALDI Nord, Beiersdorf and Volkswagen.Intermate was founded in 2015 by Philip Papendieck (CEO), Alessandro De Pasquale (CTO) and Jörn Mecher (CMO) in Berlin and employs over 90 people.
Truemates 
Truemates is a social first content production. With the creative mindset of a creator and the power of a strong team of producers, directors, cinematographers and postproduction specialists, Truemates is the performance guarantee for high quality and viral content that fits the demands of your brand. With an advanced production infrastructure of two fully equipped content studios in Central Berlin and access to data-driven-analysis, Truemates is an agile and performance-oriented full-service-production, that handles creation and production of campaign content as well as the development of mass content for brand channels and creator accounts.
Daily Pie
With nearly 800,000 followers, over 30 million likes and over 80 game formats, DailyPie is one of the most influential show channels on TikTok in the DACH region. Germany's most successful creators get together at regular intervals at the HEY! content studios in Berlin to compete against each other in entertaining games. The show offers 100% target group-specific entertainment to the steadily growing, mostly German-speaking followers. Successful brand integrations for ALDI Nord and Hollister took place on DailyPieVerties
Verties
Verties - Vertical Video Award, is the first-ever Award focusing purely on TikTok Creators in Germany, it is initiated and hosted by Intermate. and Truemates.The Verties honor TikTok Creators and Brands in 8 different Categories e.g. Comedy, Education, Food, Dance, etc. for their exceptional content and creativity on TikTok. Nominees are handpicked by an elaborate jury and winners are later chosen via online voting by the community.The Verties have first been held as a Livestream event due to Covid in Berlin in March 2021 and streamed on TikTok with over 20.000 Viewers. The second edition of the Award is already in planning and will be held in the presence of an audience begining 2022. The Verties 2021 have been supported by ALDI Nord, The Reed and Radio JamFM.
Company Type DMEXCO 2021
Partners & Brands DMEXCO 2021 and Digital Spring Summit
Provided Services
Content Marketing
Creator Economy
Online Advertising
Social Media & Influencer
Social media
Contact details
Videos
Team